About Dr. Paul Zhang
Dr. Paul Zhang, a registered Alberta massage therapist, graduated from a Traditional Chinese Medicine University in China with both Bachelor's & Master's degrees of Chinese Massage.
He had practiced massage in a general hospital China as a Chinese Massage doctor for over 20 years. He has also practiced in Calgary since 2013.
Dr. Zhang has a rich experience in treating a variety of medical conditions such as musculoskeletal conditions, arthritis, bronchitis, indigestion, stress and sleep issues.
During massage treatment, he uses techniques combined with stimulating acupuncture points on meridians, deep tissue massage, and reflexology together to treat various medical diseases and conditions.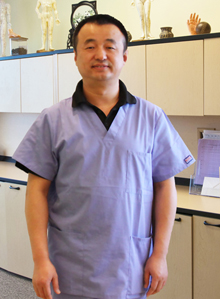 Dr. Zhang is committed to provide patients with a high quality of professional Chinese Therapeutic Massage.