Testimonials 2013
[Fertility testimonial]
Infertility: Apr 13, 2013
Everything was going exactly how I had planned. I finished my degree, worked for two years, got married to an amazing man, then, after a couple of years we decided to start our family. After a year of trying, nothing was happening and I knew in my heart something was wrong. After seeing three different doctors and being told each time ?you are young, sometimes it takes longer, there is nothing wrong with you,? I was still not pregnant nor did I know why I wasn?t. It was with the fourth and final doctor that I was finally diagnosed with PCOS, (Polycystic Ovarian Syndrome) now, began the waiting game?waiting for specialists and an appointment at a fertility centre.
As I researched everything I could about PCOS, as I was finding it very frustrating to have to wait so long to talk to specialists and actually get information from them. The more I read, the more depressed, angry, hurt and broken I felt. Why couldn?t I get the help I needed, when I needed it!
Finally at the fertility clinic, I became one of their many, many numbers on a chart. It was a very cold and impersonal experience. I had to call in to a machine, leave a message using my identification chart number, then wait until someone I had never met called me back with results or what I should be doing next. It was during this process that I found a phone book, flipped to the acupuncture section, closed my eyes and let my finger fall when it may. This is when I found DR. Quan!
Dr. Quan, with her gentle, kind and understanding demure was exactly what I had been praying for! During my acupuncture appointments, I actually had hope, and even, dare I say, relaxed for a moment. I was probably not the calmest patient as I was falling apart emotionally, psychologically and spiritually, but Dr. Quan was always able to lift my spirits while I was there and I began to feel a sense of hope I had long since lost. Through the medication from the fertility clinic and Dr. Quan?s acupuncture I actually became pregnant! It was a joy filled two and a half months, until my twelve-week ultrasound identified no heartbeat and that my baby had died. I was heartbroken, lost and so full of pain. I had many, many time thought of giving up, but I am so thankful I didn?t.
I did go back and try again. The first round of medication (from the fertility clinic) combined with Dr. Quan?s acupuncture treatments did not result in a pregnancy but I was having more normal cycles. During my ?break? from the western medication, Dr. Quan and I decided to use herbs along with her acupuncture treatments. It was then that I became pregnant for the second time, and this time my tiny little miracle survived! I thank God for bringing Dr. Quan into my life and for the help she was able to give! I had a wonderful, healthy and amazing pregnancy that resulted in a beautiful blond haired, blue-eyed baby boy!
This is not the end of my story? not only do I have my miracle baby boy; I have his little brother, and his beautiful little sister as well! I feel so blessed to have overcome the diagnosis of PCOS with the amazing help and support from Dr. Quan. I cannot count the number of people I have told my story to, to offer them encouragement, hope and support in their own fertility journey. I have and will continue to recommend Dr. Quan to all my friends, family and total strangers to help and aide them in their own fertility struggles. It is my hope, that by reading my testimonial, you are able to find the courage to try something new, maybe out of your comfort range, and come and speak to Dr. Quan. I have three amazing results!
See photo taken on April 1st 2013, Michael (almost 5 yrs.), Jonathan (3 1/2yrs.) and Kianna (almost 2 yrs. old)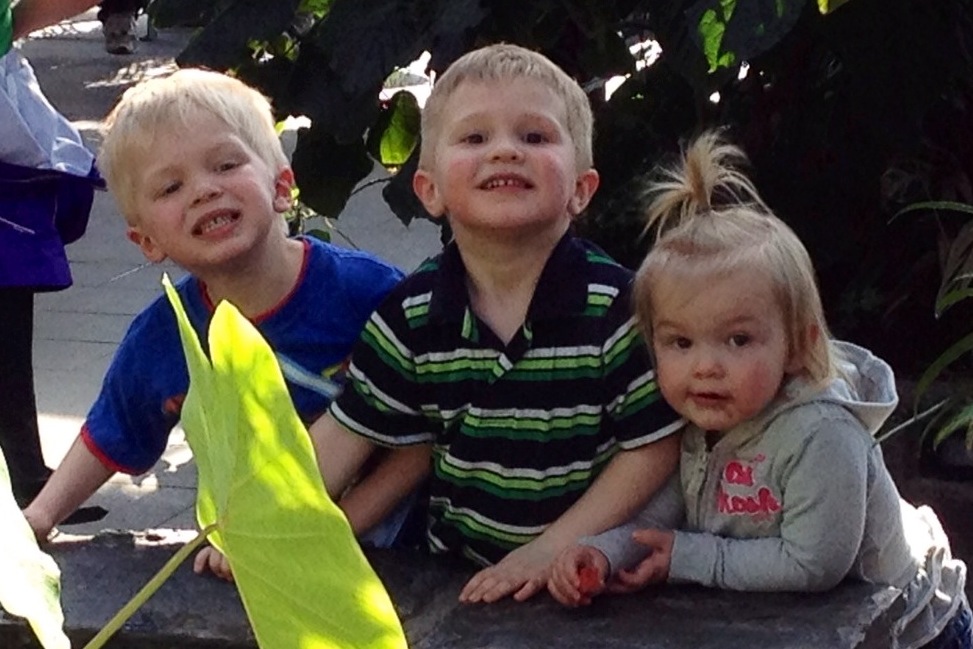 Christina Haag from Calgary
------------------------------------------------------
[Liken Planus]
Liken Planus: Apr, 2013
Several years ago, I was diagnosed with a mild case of Liken Planus. This condition caused mild ulcers in my mouth and on my penus. Initially, it would last 2 or 3 weeks and then disappeared for many months but it returned again and again. This pattern continued until early 2002, at which time the condition persisted. The ulcers gradually progressed and worsened over a period of many months and eventually spread to my lower lip. This caused my entire lip from one end to the other to split, fester and bleed most nights. The natural coating on my tongue was also disappearing and everyday activities of eating and cleaning my teeth became very difficult, uncomfortable and often caused bleeding.
My family doctor was unable to offer any solutions to the problem and referred me to some traditional medical specialists. I visited each of them only to learn that the cause and treatment of Liken Planus is mostly guess work. These specialists prescribed anti-viral, anti-biotic or cortisone-based remedies, none of which provides a cure. This I know because my Liken Planus had thrived during past periods while I was actually taking those medications for other ailments. One specialist recommended surgery to remove the infection, which I declined.
I next consulted a Naturopathic Doctor in July 2004 looking for an alternative solution. His proposed solution was to take a random selection of pre-bottled herbs and to radically change my diet. Even though the diet was impractical, I tried it seriously over an 8 week period with the following results. My condition improved slightly during the first 3 weeks, then reversed completely during the following weeks. The herbs caused diarrhea almost immediately so I had to stop them. This was clearly not the answer.
In September 2004, still in dire need of a solution, I decided to try Acupuncture and contacted Dr. Sarah Quan, who is a specialist in the field of Acupuncture and Herbal medicine. She assessed my condition and immediately began a series of Acupuncture treatments followed by a regimen of specially formulated Herbs. Within the first few weeks, my condition improved noticeably. My lip healed nicely and the ulcers in my mouth slowly diminished. As explained by Dr. Sarah, there were imbalances in my body that caused a range of problems, many of which I was not aware of. I was unable to identify and deal with these imbalances while coping with the overwhelming problem of the Liken Planus. But as treatments progressed, I was able to realize overall improvements in several bodily functions in addition to blessed relief from the ulcers. The benefits that I have thus far received from Acupuncture have convinced me that I am on track to good health.
In addition to an ongoing maintenance program of Acupuncture and Herbal treatments, Dr Sarah provides me wise consultation on dietary matters and other health issues that impact the severity of my condition. When I follow her consultation, the Liken Planus symptoms remain under control.
Eric Lilly
------------------------------------------------------
[Fertility testimonial]
Fertility: Apr 17, 2013
There was time when I thought that my life would never include a child. Today my whole world revolves around my daughter Isabella. Sarah gave us a gift that no amount of money could have afforded us, a child of our own. Our story goes a little like this. The details are slightly blurry due to all the emotions that surrounded that time frame.
In the year 2011 we had been married for a little over a year and decided that it was a good time to start a family. Within, three months we were pregnant and thrilled. This would be to no avail the pregnancy was not viable. We were saddened but continued to try over the next year. After that year when we were unsuccessful when followed up with the fertility center and did all the required testing. I thought worst case scenario we had a blocked tube. As, I sat across from the fertility doctor my life changed forever. She looked at me, closed my file and said that we needed to adopt as we would never have children of our own. We were devastated to say the least!!! Our chances of conceiving our own child was less than 2 per 1000.
So, after laying on the couch crying for a week I decided to take matters into my own hands. I figured the worst had already happened nothing I do from this point will hurt me. So, here enters my miracle worker Dr Sarah Quan!!! After, seeing a few other acupuncturists I found her like a blessing from heaven. My first encounter with Dr Sarah was spent with me crying heavily on this poor woman's shoulder. Then, the real work started with acupuncture, herbs and diet. I was hooked and felt like I was actually involved in the process and not just a number on a file. I went religiously for four months twice a week. I took my vitamins and herbs every day on time. Now, in the interim we had put our names on an egg donor list in Seattle and we preparing ourselves with taking that route if nothing ever came of acupuncture. That interview was scheduled for the first week of March. Well, imagine my surprise when the last week of February rolled around and my period was late. I must have taken three pregnancy tests and all were POSITIVE!!!! No need then for an egg donor we were having our own child.
I am so grateful everyday that Dr Sarah entered our lives and altered it in a way that I will never be able to thank her for. I look into my child's eyes and thank Dr Sarah everyday that she has given us the gift of a lifetime. I wish to thank-you for your patience and care during one of the hardest times of my adult life. I am ready to try again for another little miracle!!!
Colleen Listro
------------------------------------------------------
[Stroke]
Stroke: Mar 21, 2013
In the hospital, immediately after my stroke, I began therapy for my left arm, hand, leg and foot. The arm had very little motion or feeling and the hand was just a ball of curried fingers which I had no control of. The leg and foot were about the same as the arm and hand. With assistance I was able to get out of bed but could not walk by myself. I was wheeled to daily therapy sessions where we worked at trying to stimulate and strengthen the connection between my brain and my limbs.
By the end of several weeks of hospital stay and therapy I was able to walk the 50 foot hallway and manage a 12 step stairway. In the dining room table I was able to eat by myself including cutting my own food, managing my juice and milk containers and other simple daily activities.
I continued to receive therapy at home and then as an outpatient. I did aqua exercises as well as a completion week exercise classes with the certain organization. Upon returning home from the hospital I began and still continue today to do exercise at home each morning and progressed to the extent that I was able to push my walker to a mailbox six blocks away and then back home. Another trip I managed was two blocks to an overpass, up and over a main road and then another block to a bus stop and then back home. Each of these trips takes about an hour.
In an effort to develop hand-eye coordination I have switched over to being left handed. Everything that needs to be done is first attempted with that hand. Jigsaw puzzles done with the affected hand takes a lot of patience and mental effort and is mentally fatiguing but over time has produced good results. Needle work is also good for hand-eye coordination.
I am wearing a brace on my left leg because that foot has not progressed as I need it to. Walking around the house without the brace has become a part of my routine but using the brace is necessary the rest of the time. The circulation in the leg and foot is also part of the problem. Deep purple and cold was the way to describe my leg and foot. Numb and unmoving described the foot and toes.
In an effort to stimulate my coordination I determined to crawl. After some time and failed efforts I managed to get down and try. I was not able to lift my leg and foot off the floor and so succeeded in developing a rug burn that discouraged further attempts. Again I was discouraged.
At some point during this 4 year+ time period I began wondering if there was not more than I could do to help stimulate my leg and foot. I had worked long and hard and had seen a large change in my arm and hand but was feeling discouraged about the leg and foot. I knew very little about acupuncture but resolved to try it.
Over the 16 months that I've been taking acupuncture I have seen my affected lower leg and foot continue to be straighter and stronger, with improved circulation, temperature and color. My stamina, endurance, concentration, balance and memory have improved and I am sleeping sounder. I can now concentrate on more than one thing at a time, i.e., playing board and card games, doing Sudoku puzzles and doing jigsaw puzzles with my affected hand – being able to manipulate the pieces in my hand to the right position to be put into the puzzle. I am able to think further ahead of my next move and manipulate numbers.
When I started I couldn't get down or up or crawl without dragging my affected leg and foot; now with the help of strengthening exercises and acupuncture I have recently been able to crawl farther while lifting my affected leg and foot off the floor.
I know that acupuncture is playing a large part in my recovery and helping me regain the strength I need to improve my balance. This has already helped to improve my walking and daily exercises. I am now feeling tingling and twinge in my affected foot and toes and I can now feel my toes individually. When out walking I can feel lumps and bumps under my shoe.
The only regret that I have about the acupuncture is that I didn't start it much sooner. Over those 4+ years that I worked without it I believe I would have regained more of my brain function with it. I think that every possible effort should be made toward introducing acupuncture treatments to stroke patients as early as is possible. I believe that the medical staff who treat stroke patients would do well to introduce the use of acupuncture in their training and teaching.
Immediately after my stroke I began therapy for my left arm, hand, leg and foot. I continued to receive therapy at home and then as an outpatient. I did aqua exercises as well as a couple of exercise classes before I began and still continue today to do exercises at home each morning.
Over the months that I've been taking acupuncture I have seen my affected lower leg and foot continue to be straighter and strong, with improved circulation, temperature and color. My stamina, endurance, concentration, balance and memory have improved and I am sleeping sounder.
I can now concentrate on more than one thing at a time, i.e., playing board and card games, doing Sudoku puzzles and doing jigsaw puzzles with my affected hand – being able to manipulate the pieces in my hand to the right position to be put into the puzzle.
I know that acupuncture has played a large part in my recovery and has helped gain the strength I needed to improve my balance. This has helped to improve my walking and daily exercises. I am also feeling tingling and twinge in my affected foot and toes and I can now feel my toes individually.
When I started to crawl I couldn't crawl, get down or up without dragging my affected leg & foot; now with the help of exercises & strengthening of acupuncture I have recently been able to crawl farther lifting my affected leg and foot off the floor.
Sharon Smith
------------------------------------------------------
[Pain testimonial]
Knee and Carpal Tunnel Pain: Feb 2013
My job had me driving a car and at a computer for long periods of time. I developed very painful knee pain. It was so bad that I had difficulty walking and sleeping. I also noticed over a period of time that I developed tingling and numbness in my thumb, index, and middle finger with sudden shooting pains in my thumb, fingers and sometimes palm.
A collogue encouraged me to see Dr. Quan. I had developed a fear of needles, but I finally decided I needed to do something and I didn't want to take drugs that might have side effects. I remember after the first treatment the pain in my knees lessened and I found the treatment very relaxing. I continued acupuncture treatments with Dr. Quan. After a couple of months, I no longer had problems with either my knees or hands. It has been five years since the first time I saw Dr. Quan. My knees continue to be pain free. I have had to go back once a year ago for a treatment for my hands and again now. The treatment has alleviated the pain and helps get rid of the stiffness.
Dr. Quan has a very professional manner. She has shown a genuine interest in my well being and I can confidently say she has given me a better quality of life due to acupuncture. I would highly recommend seeing Dr. Quan for drug free pain management in these areas.
Gloria from Calgary
------------------------------------------------------
[Pain testimonial]
Fibromyalgia: Jan 2013
I have been receiving acupuncture treatments from Dr. Sarah Quan for over two years. After our daughter's wedding in 2010, my fibromyalgia flared up and I was no longer able to deal with the continuous pain, upset digestion and overwhelming fatigue. I feel blessed to have found Dr. Quan. With her great knowledge of TCM I have responded positively to the acupuncture treatments. In addition, she has suggested a few herbal treatments for my digestive problems and these have worked very well. Over the years I have increased my endurance and my sleep. My overall health has greatly improved. Thanks to her caring and gentle nature, I have regained the ability to enjoy my life again.
An appreciative Calgary patient
------------------------------------------------------
[Pain testimonial]
Back and Knee Pain: Feb 2013
Over the years what started as a slight limp ended up with an ankle that had pain most of the time. Because of the need to compensate for the ankle the muscles around my right hip began to stress and tighten up, when the knees began to hurt I became concerned that in the next few years I would be using a cane.
Physiotherapy helped but didn't resolve the continuing problem. A friend, who was a patient of Dr. Quan's, had had a hip injury many years before and after a short time as a patient of Dr. Quan had seen significant results. At my first visit Dr. Quan asked if I had ever had an injury to my tailbone, sure enough I had been in a car accident as a child. After the first treatment the muscles around my hip felt less tense.
Though I was very nervous about my first treatment I am grateful that Dr. Quan was patient with me and over the past year acupuncture has alleviated muscle stress from my neck and shoulders through to my ankle.
I have recommended Dr. Quan because I believe in her ability, appreciate her professionalism, and am grateful for her warm caring manner.
Elaine
------------------------------------------------------
[Pain testimonial]
Neuroma and Shoulder Pain: Jan 2013
Dr. Quan is a kind, gentle, and very professional doctor. I am delighted with Dr. Quan and how she has been able to help me with various issues over the past 8 months. I had been suffering with Neuroma for about 6 months, and my podiatrist had tried several techniques with little success. My podiatrist referred me to Dr. Quan to assist with my pain. Within 3 appointments the pain had greatly subsided, and after an additional 4 treatments, my foot is "normal" again. Without Dr. Quan, surgery was going to be my only option for the Neuroma. I had not considered acupuncture as a treatment method, but I am eternally grateful my podiatrist introducing me to Dr. Quan and acupuncture.
More recently, I injured my neck and shoulder chiseling ice and snow off of my in-laws driveway. The pain was intense, and I was suffering from nerve issues as well. I had pain down my right arm, and was unable to lift anything heavy with my right hand. I had received several Active Release Therapy sessions when my doctor suggested. I tried acupuncture to assist with the pain and nerve issues. I received 3 acupuncture sessions with Dr. Quan, and I am now able to lift objects with my right hand/arm.
Dr. Quan is wonderful to work with, and I would recommend her to anyone seeking acupuncture care.

Shannon L.
Grade 2 teacher
------------------------------------------------------
[Mental health testimonial]

Anxiety, Depression, Fertility and After Childbirth Care: Feb 2013

I have been seeing Dr. Sarah Quan since 2007. Originally I started seeing her for anxiety and depression. Not only did she ease my mind but she tirelessly made me feel like any problems I had could be fixed. She took the time to encourage me and listened to any of my emotional issues. Her herbal medications not only helped my emotional well being but worked better than any conventional western medication I was prescribed. After each session I felt much calmer and well adjusted. Because of her expertise I not only stopped taking prescribed mediation but after a short time, stopped taking all medications at all.
In 2009, I wanted to become a mother and had acupuncture for fertility. Nine months later, I welcomed a beautiful healthy baby girl in December of 2009. When I was overdue and was slated to be medically induced, I asked Sarah to induce my labour. Not only was the treatment medication free, I went into full labour less than 24 hours later. I also had trouble breastfeeding and Sarah made a homemade soup for me which improved my milk flow.
Dr. Quan is really a life saver to me. Not only did she help me when I was at my most difficult time in my life but helped me create the greatest joy in my life, my daughter. I cannot express how much I appreciate her wisdom and patience. I will always continue to maintain my emotional and physical health at the Acupuncture & Herbs Wellness Clinic.
Dallal
------------------------------------------------------
[Fertility testimonial]
Infertility: March 2013
I decided to go to Dr. Quan after trying to get pregnant for almost 3 years. The doctors had all told me everything was fine and all reports were normal. They were not sure why I was not getting pregnant. Dr. Quan pinpointed my issue and said it was treatable with acupuncture. Within 4 months of doing acupuncture I was pregnant and had a beautiful daughter 9 months later! Cannot thank Dr. Quan enough. She is an extremely understanding, patient and nice person. She put me on ease right away. She is also very knowledgeable about nutrition. I am going back to her now again to have another pregnancy!
A patient from Calgary
------------------------------------------------------
[Digestive disorders testimonial]

Crohn's Disease: Jan 2013
My name is Tom Yates and I have been a patient of Dr. Sara Quan since 2010. Dr. Quan has been treating me for Crohn's Disease and a snoring problem. Since receiving treatment from Dr. Quan the symptoms of my Crohn's Disease are gone. I have experience a huge boost in my energy level, my appetite is back and I have gained all the weight I had previously lost due to the Crohn's Disease. As for the snoring, I am now snoring much less a night and thus, I'm feeling much more rested in the morning.
I have had great results from the care and attention I have received from Dr. Quan. I would whole heartily recommend Dr. Sara Quan after having experienced such amazing results due to her treatments.
Tom Yates
------------------------------------------------------
[Urogenital disorder testimonial]
Chronic Urinary Tract Infection: Feb 2013
I had been suffering from continuous bladder and urinary tract infections for many years. I also suffered from severe incontinence. My urologist recommended a sling be inserted around the neck of my bladder to help with the incontinence. This was a major surgical procedure. The constant bladder infections were treated with almost constant antibiotic use; not healthy for the rest of my body! As a result of the surgery I had serious side effects. My bladder was not emptying and it was also going into spasms making life very difficult. I was put on a regime of prescription medications as well as my regular antibiotics. My urologist told me that if the medicine did not work I would have to learn to use a catheter. I was 44 years old and pretty much at a loss at what to do next.
In March 2008, I had no idea what to expect when I first came to see Dr. Sarah Quan at the Acupuncture & Herbs Wellness Clinic. I found her to be gentle and very easy to talk to. I was so scared but she quickly put me at ease. I fell asleep during my first treatment! It was painless with no side effects! I started going to see her twice a week; a 3 hour round trip for me but it was worth it! After the first week (2 treatments) my bladder stopped going into spasms. After 2 weeks (4 treatments) I stopped taking all my prescription medicine. Dr. Sarah had put me on some herbs and along with regular acupuncture treatments I felt so much better. I continued to go for acupuncture twice a week for quite a few months and the change in my overall health was amazing! I was off of antibiotics for the first time in years! I regularly went for urine tests and they continued to be negative. The condition of my skin improved, I no longer was bloated and had no pain anywhere. In hindsight I realize that I should have seen Dr. Sarah before I consented to having the surgery. I am so very grateful to her for all of her compassion during those first 6 months that I was her patient. She gave me hope that I could have a normal working bladder when the urologist didn't think it was possible.
I have continued to see Dr. Sarah once a month. In 2010 my husband and I moved to Calgary and it sure is nice not to have to drive 3 hours for acupuncture treatments although I would do it if I had to!
Over the past 5 years I have also received treatment for sore muscles in my back, shoulder and neck. I am now receiving acupuncture for symptoms of perimenopause including hot flashes and insomnia, which has been much relieved. I will continue to take whatever she recommends. I trust her totally with my overall health and have made my family doctor aware of my ongoing relationship with Dr. Sarah. She is such a caring person and I have always felt comfortable talking to her about any issues that come up. Thank you Dr. Sarah for everything!
Sue Maggs
------------------------------------------------------
[Urogenital testimonial]
Spastic Bladder and Frequent Urination: Feb 2013
A long standing (28 year) history of dealing with a spastic bladder/frequent urination was progressively getting worse, I decided to try acupuncture. I had been referred to Dr. Quan from some family members. To date, I have had 5 treatments. I started noticing improvements in my condition by my third treatment. Instead of voiding every 1-2 hours, it is now averaging every 2-3 hours. The sensation that one has to void also has diminished. I am quite confident that with more treatments, this condition will improve.
The treatment rooms are a sanctuary in a busy day. I look forward to my appointments with Dr. Quan. At each appointment Dr. Quan shares her knowledge of acupuncture with me, for which I am very grateful. It has been an enlightening experience.
Dr. Quan and her staff provide a very professional, informative, serene, and welcoming environment. I am so pleased with my results to date that.
I would not hesitate to recommend Dr. Quan.
Jo-Anne
------------------------------------------------------
[Respiratory disorder and maintenance testimonial]
Low Immunity and Energy: Feb 2013
I have had a number of chronic conditions stemming from my compromised immune system. At age 3, I was hospitalized for sixty days due to severe bronchial asthma. During my working career I seemed to pick up every cold and flu that was going around, often leaving me bedridden. At age 49, I developed type 1 diabetes.
I became aware of Dr. Quan through a friend who was her patient and made an inquiry through her office to determine if acupuncture could relieve my nasal congestion. I was informed that she has had success in treating this condition. At my first visit Dr. Quan diagnosed that my immune system needed to be strengthened. She also noticed that my hands and feet were on the cold side and needed better blood flow.
I have been receiving acupuncture treatments for approximately 1 ½ years and during that period I haven't had a severe cold or flu to put me out of commission. I have noticed increased warmth in my hands and feet. I have also noticed a slight decrease in my insulin requirements to control my diabetes.
In my view, these are significant results which I can only attribute to acupuncture therapy. I am grateful for Dr. Quan's professional approach and her kind and compassionate personality.
Ernest
------------------------------------------------------
[Maintenance testimonial]
Multiple Conditions: Jan 2013
Dr Sarah Quan continually impresses me. Over the past few years, I had used her as a "last resort" for a few medical problems that I was having, and she has come through for me every time. Not only has she alleviated each issue that I have come to see her for, but she has also repaired things that I had just accepted as life and not even complained about. She is kind, caring and genuinely concerned about everyone that comes to see her. I believe that she sincerely wants to improve the quality of life of each of her patients. She is knowledgeable, skilled and intuitive. I have also referred my sister to her and she is now seeing marked improvement in her general health. I must say that I now consider Dr Quan to be my first line of intervention and not my last resort. Thank you Dr Quan.
Donna
------------------------------------------------------